丹妮斯DENNIS總經理黃步艷、壓軸嘉賓王夢雅
  時間:10月31日17:00
  Time:October 31st 17:00 p.m.
  地點:梅賽德斯-賓士 中國國際時裝周 中央大廳
  Location:Mercedes-Benz China Fashion Week Central Hall
  事件:蘇州婚紗禮服品牌丹妮斯DENNIS新品發布會
  Event:Suzhou Wedding Dress Design Brand – DENNIS' New Release Conference
  主題:十年
  Theme:A Decade
  十年沉淀、十年歷練、十年精致雕琢幸福呈現,丹妮斯DENNIS"十年"大秀將品牌獨有的人文情愫和純手工技藝兩相結合,蕾絲交織釘珠的靈動雀躍、刺繡穿透綢緞的細密柔軟,于款款走出的婚紗禮服作品中,流露敲打人心的幸福共鳴。
  DENNIS'debut of "Mercedes - China International Fashion Week", demonstratedthe brand's ten years of sedimentary accretion, ten years of experience, tenyears of exquisite carving happiness. It combines the brand's unique factor ofhumanity with pure handmade skills. Lace lively intertwines nail beads, embroiderypenetrates the delicate soft silk, the heart-beating resonance of happinessvividly revealed on the emerging wedding dresses.
  以"360°全定制"為獨家理念的丹妮斯DENNIS,2006年伊始發端于蘇州河岸,總經理黃步艷女士將江南獨有的溫婉藝文特質,與西方婚紗禮服天然具備的大氣華美視效巧妙融合。
  DENNISholds "360°full customization" as its exclusive philosophy, the brandestablished in early 2006 along the Suzhou River. Ms Buyan Huang, the generalmanager, ingeniously fused the unique soft and aesthetic features from regionsin the south of the Yangtze River with natural gorgeous visual effects ofwestern wedding dress.
  在丹妮斯DENNIS婚紗禮服系列作品中,西式優雅與東方情趣的相融相生自成一派。
  Inthe DENNIS wedding dress series, Western-style elegance and oriental tasteintegrated into harmonious counterbalance.
  在十年磨一劍的實踐過程中,丹妮斯DENNIS已經游刃有余地借助面料、剪裁、設計心思與細節裝飾來充分展現以客戶為出發點的暖心人文情感,并將其匯聚于這一場寓意"十年"的總結舞臺上,以厚積薄發的作品張力和情感厚度來致敬時間磨礪下的匠人之心。
  Tenyears of practice in the process of grinding sword, DENNIS has been able to useits fabrics, tailoring, design ideas and details of the decoration to fullyshow the customer-oriented warm heart humanistic sensibility, andbrought them together in this memorial "Decade" stage as a summary.With profound knowledge of the tension and emotional thickness of the work,salute to the time honed craftsmanship.
  十年,象征圓滿、寓意幸福。
  Adecade, a symbol of success, an implication of happiness.
  丹妮斯DENNIS在本系列新品發布中,特別將十年這一主題予以生動活潑的意象化展示和呈現:蔥郁茂密的竹葉、色澤濃烈的富貴花、上乘綢緞與精致刺繡的中國風、重工蕾絲與手工釘珠的異域范……
  Inthe DENNIS new release series, the theme of this decade has been particularlyvividly and imaginatively displayed and presented: lush and green bambooleaves, intense colored wealthy flowers,
  selectedsilk and fine Chinese-style embroidery, handcraft laces and exotic stylefingering beads......
  充分借助斑斕跳躍的自然界色彩構成一幅落英繽紛的如畫景象,一如遠離世俗的桃花源——有良田美池桑竹之屬,黃發垂髫并怡然自樂。
  Withgorgeous and enlivened colors of the great nature, created a picturesque sceneof blossom time, just like in the cloistered Peach Colony— there werebamboos and mulberries with fine fields and valley, the old men andchildren appeared very happy and contented.
  丹妮斯DENNIS精于描繪的"幸福感"就暗藏在這一件件流動的婚紗禮服其間。
  DENNIShas its proficiency in portraying the "happiness" implicated by thepieces of well-designed wedding dress.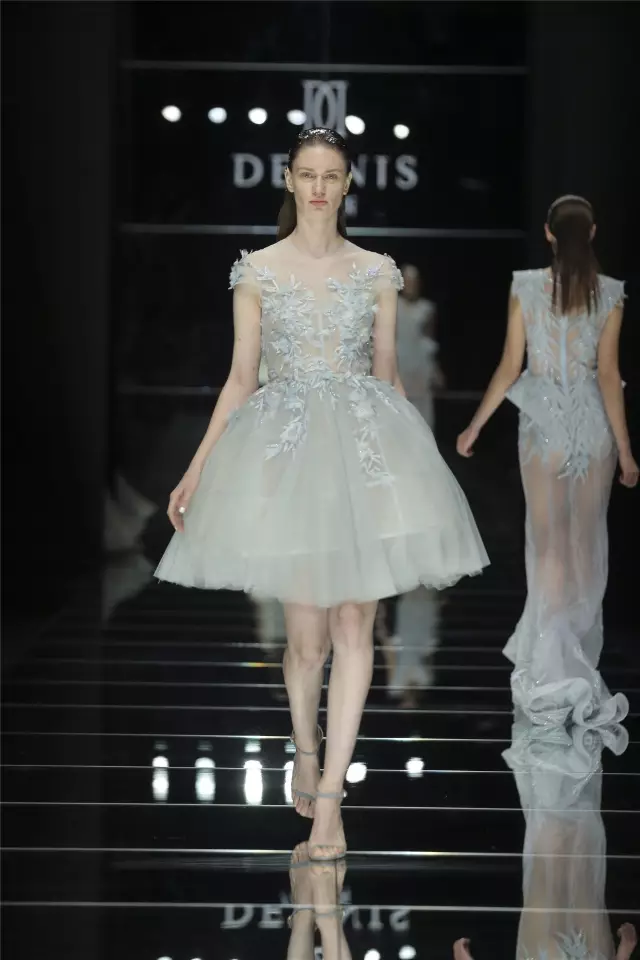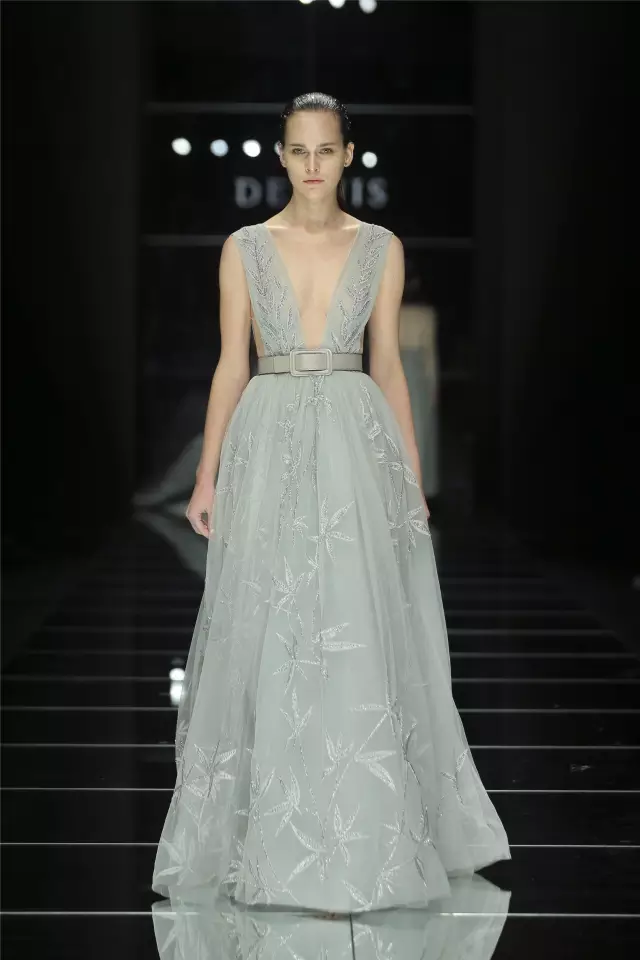 除了傳遞十年如一日的"幸福感",丹妮斯DENNIS旗下的設計師團隊還特別將丹妮斯品牌LOGO,通過兩個字母"D"前后重疊的透視原理與三維效果營造出一扇"門"的視覺感受,將中式剪紙窗花和歐式建筑風格完美相融,再一次展示出品牌的別致創意與造型能。
  Inaddition to delivering "happiness" for a decade, DENNIS' designerteam also specialized the brand's logo. Through perspective overlapping of theformer and later "D" letters and three-dimensions effects, created a visually"door" experience. Perfectly combined the Chinese paper-cut windowdecoration with European architectural style, once again presented the brand'sunique creativity and modeling capabilities.
  "360°全定制"的深厚功底,也正是在這反復推敲細節的定制標準中日漸精進,并不斷激發出彰顯生命力的創意設計。
  Itsdeep foundation of " 360° full customization " exactly increasinglysophisticated in this repeated detail-refined customization standard, and thisfoundation has been continuously inspired the vitality of the creative design.
  十年,是一個總結,更是一個新的開始。
  Adecade is a summary, but also is a new beginning.
  從蘇州城的聲名鵲起,到海量國際訂單的全球風靡之勢,再到登臺梅賽德斯賓士-中國國際時裝周,丹妮斯DENNIS經歷過勠力同心的初期、熬過了艱難蛻變的成長,終于在2016年末——這個奮斗十年的尾巴上,迎來了品牌轉型升級的關鍵時刻:國際化的禮服設計與經營之道、匠心獨具的婚紗美學與實穿經驗之外,更加人性化的服務理念,在定制中享受人生別樣體驗的不懈追求,將繼續豐滿品牌孜孜以求的"幸福感"。
  Fromthe brand's rise to fame in Suzhou City to the trend of massive internationalorder of the global popularity, and finally showing up on the ChinaInternational Fashion Week stage, DENNIS experienced the concerted efforts ofthe early stage, struggled through the difficult transformation of growing up,and finally at the end of 2016 – at the tail of ten-year hard-working the brandseized the critical moment of transformation and upgrading: In addition tointernational wedding dress design and business management, creative weddingaesthetics and real wearing experience, what will continue to plump the brand'sdedication of "happiness" is more personalized service philosophy andrelentless pursuit of enjoying different lifestyle in customized services.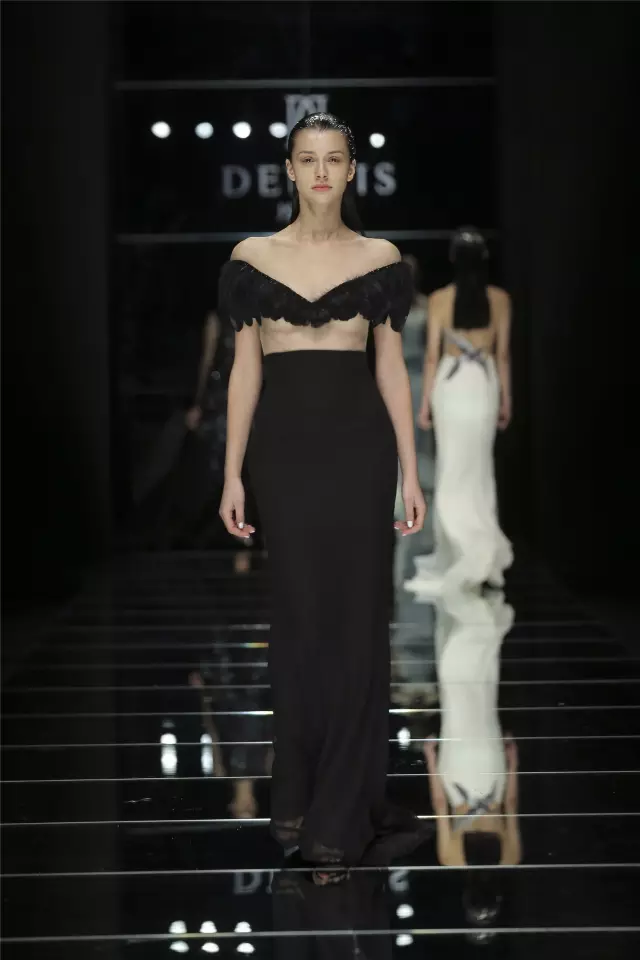 煥然一新的丹妮斯DENNIS,將帶給更多客戶以"美"和"愛"的獨家感悟,并將這種感悟撒播到世界的每一個角落,讓每一位新娘,都成為"幸福"的代言!
  Thebrand new DENNIS will bring customers more exclusive inspiration of"beauty" and "love", then spread this kind of inspirationto every corner in the world, and let every bride be spokeswoman of"happiness"!